Feel the power of nursing through these inspirational quotes derived from recent blog posts.
---
I'll never understand the preconceived notions that demote the significance of nursing to a substandard level that falls below other areas of the healthcare industry. The notion that nurses are nothing more than a supplementary asset for doctors is irrational, as is the idea that someone pursues a career in nursing only because it is an easier alternative to becoming a doctor. Yet still, these are the type of labels that nurses have been faced with for years.
It must be noted that the perseverance and dedication nurses constantly display to overcome such irrational assumptions is beyond admirable. But if you ask any nurse what it is about nursing that inspires them, I guarantee their answer will have nothing to do with overcoming irrational assumptions. Their motivation is not to prove people wrong or gain the approval of others; their motivation is that they genuinely believe in the cause. They know how much of a difference nursing makes in the world, and only a nurse can truly understand and appreciate the magnitude of their impact. They don't need to listen to what other people say about their job or what kind of difference it makes – they live it.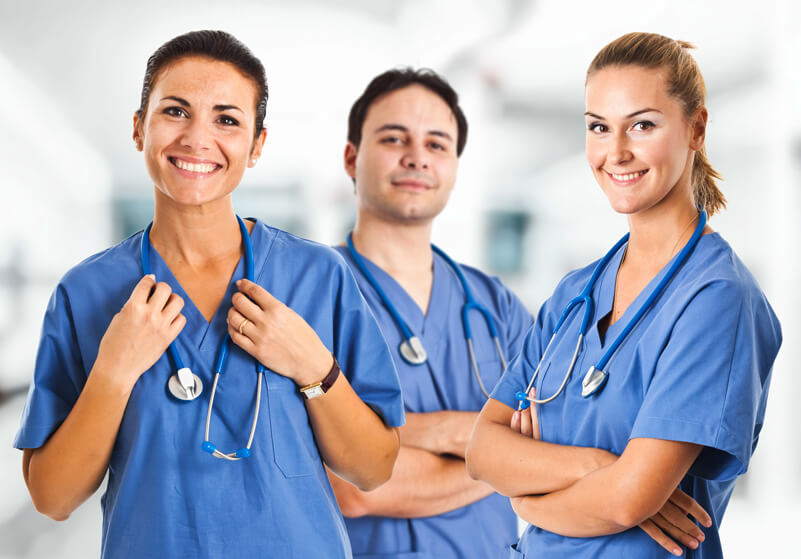 Will society as a whole ever get to the point where we perceive nurses to be just as integral to a healthcare system as doctors are? Probably not, and that's a shame. Too often, we get so fixated on comparing one thing to another that we become oblivious to the fact that both are fighting for the same cause. Our obsession for competition distorts our entire understanding and hinders our ability to embrace the bigger picture: they are not working against each other; they are working with each other. In fact, they rely on each other. Without nurses, doctors would not be able to do their jobs – and vice versa. Therefore, neither one is "more important" than the other, and frankly, the entire argument is irrelevant. The fact is that nursing is just as important as any other component when it comes to delivering the highest quality of healthcare possible. Maybe not more, certainly not less.
What I do know is this: if you are a nurse, then you should wear the title with pride. Not many people are capable of doing what you do, and even fewer are capable of doing it with the charisma and passion you do it with. The impact you make on a patient's life, however brief it may be, is something they will never forget. It's been said that nobody appreciates a nurse until they need one. Nurses know this. They know they are under-appreciated, but it doesn't matter to them – and when you need one, they'll be there.
Here are 10 nursing quotes from recent blog posts and articles that show the power of nursing. These quotes have all been gathered from recently written blog posts, rather than famous quotes from historical figures, in an effort to provide a personal touch, and to truly capture the sentiment and pride carried by the nurses who care for us when we need them most. Enjoy.
---
According to Kateri
"I am a Nurse. I didn't become a nurse because I couldn't cut it in med school, or failed organic chemistry, but rather because I chose this. I work to maintain my patient's dignity through intimate moments, difficult long term decisions, and heartbreaking situations. I share in the joy of newly born babies and miraculously cured diseases. I share in the heart break of a child taken too soon, a disease too powerful, a life changed forever. My patient is often an entire family. I assess and advocate. Sometimes I wipe bottoms, often I give meds, but that isn't the extent of what I do. There are people above me, and people below. I work closely with both, without them, I could not do what I do well. I chose this profession and love almost every minute of it. I know I am not alone and I appreciate all of the nurses who work alongside me. Many of them have shaped me into the nurse I am. Someday I will shape others into the nurse they will be. This wasn't my plan B, it was my plan A, and I would gladly choose it again."
---
Practical Nursing
"As nurses we know suffering. We are fully aware of how precious each moment of life is. We learn to live well.

Nurses are grateful people. Some people only learn about these essential spiritual qualities from traditions of worship. We learn compassion, love, peace and more by performing our daily work.

Nurses are constantly reminded of the necessity of valuing the dignity and worth of every person. As a result, we become better people. Our souls are healed. We develop communication skills and open hearts which make us more loving members of our own families. We become tolerant, and appreciate the diversity of all of the people on this earth. Perhaps that is the biggest benefit of being nurses. We become more caring, and honorable people."
---
Nursing Crib
"'Nurses are just second to doctors, they are just assistants and can't function without doctors". Yeah, yeah. That is the common notion of the public, however, as much as we rely on doctor's orders for some interventions we need to perform such as medications and invasive procedures, we also have our INDEPENDENT roles, we also get to make our own NURSING DIAGNOSES. The negative perception is often due to some nurses acting like those: like robots waiting for a physician's order to move. Instead of confirming the perception, let us prove to them that they are not right. Like doctors, we have served years of health education, and passed the boards to practice in this profession. We are professionals too, let us act like one."
---
Rasmussen College
Website | Facebook | Twitter | LinkedIn
"The phenomenon of the nurse-patient relationship and its ability to affect the overall treatment of a patient is a central topic to the studying of nursing. The focus is usually on the ability of the nurse to impact the patient, but we often forget how much the patient can impact the nurse."
---
Scrubs Magazine
"Last year, I had a patient who spent a long time in our unit with a life-threatening illness. The patient and his family were determined to beat the illness, pushing for only the best outcome. I shared with them that we work for the best outcome and nothing less, but that the most important part of our work is about more than outcomes – it's about those moments when the patient, family and care team are all working together seamlessly, dedicated to healing. This is why I come to work every day."
---
American Holistic Nurses Association
Website | Facebook | Twitter | LinkedIn
"Let's start with the first benefit to nursing: Altruism – the unselfish concern for the welfare of others; selflessness. Nurses help people. It's that simple. In 2012, nurses once again appeared at the top of Gallup's annual survey of "Most Trusted Professions." The perception of our profession is that we care in many different forms of that word… Nurses help people. And in doing so, we receive the unmatched satisfaction of knowing that we have made a difference to patients and their families."
---
Johns Hopkins Medicine
Website | Facebook | Twitter | LinkedIn | YouTube
"Nursing is going to become even more important in the coming years. That's because health care systems throughout the world are gradually shifting attention towards models that do more to prevent and manage cardiovascular disease, diabetes and other chronic diseases that are best dealt with in patients before they require hospitalization. Nurses will play an enormous role in these lower-cost, higher-touch, prevent-and-manage models, because the emphasis will be one more frequent bust less intense levels of care that call for coaching, outreach and simple patient self-measurements like blood pressure – routines that often don't require much physician involvement. And as nursing continues to grow higher-level, more specialized branches, the way that physician practice has, nurses will increasingly take over many diagnostic and treatment tasks. It's just one more reason to assign nursing such a high priority."
---
Nursetopia
"The longer I'm in the profession, the more experiences shape my life, the more amazing colleagues influence me, the more I see the micro and macro power of nursing."
---
The Nerdy Nurse
Website | Facebook | Twitter | LinkedIn
"Nursing is great for so many reasons, but there is one reason that means more than any poll results, amount of money, or job security: Nurses make a difference."
---
NurseTogether.com
"As nurses, we accomplish great deeds for our patients. From offering a patient level explanation of a medical procedure to restarting a stopped heart, we make a difference every single day. When my daughter was in high school, she often watched the TV show ER. After one particular episode, she announced to my wife and I that she was going to go to medical school and become a doctor. I have no problem with that at all. She followed that statement by saying that it must feel great to save someone's life. I looked at my wife (also a nurse), and we smiled at each other. I said, "Yes, it is a great feeling."
---
It's easy to get caught up in the daily grind of being a nurse. The varying degree of emotions a nurse experiences on a daily basis is unrivaled by any other occupation. There will be moments of happiness and moments of sorrow; moments of laughter and moments of fear. But through the tears of joy and the tears of pain – always be proud to call yourself a nurse.
---
Additional Nursing Quotes That Will Make You Proud:
If you are a nurse or medical professional looking to advance your education, visit eMedCert. We offer comprehensive online courses for ACLS, PALS, and BLS certification and recertification courses that are widely accepted by employers and can be completed on your own schedule.