Nurses and medical professionals are legally required to have basic, pediatric, and advanced life support certifications. Learn the differences between ACLS, PALS, and BLS in this step-by-step guide. Find answers, frequently asked questions, & more.
---
In this article, we will discuss the most important things for you to know about ACLS certification, PALS certification, and BLS certification. In addition to answering some of the most frequently asked questions (FAQ) that you might have, we will also explain how completing these certifications online can make your life much easier.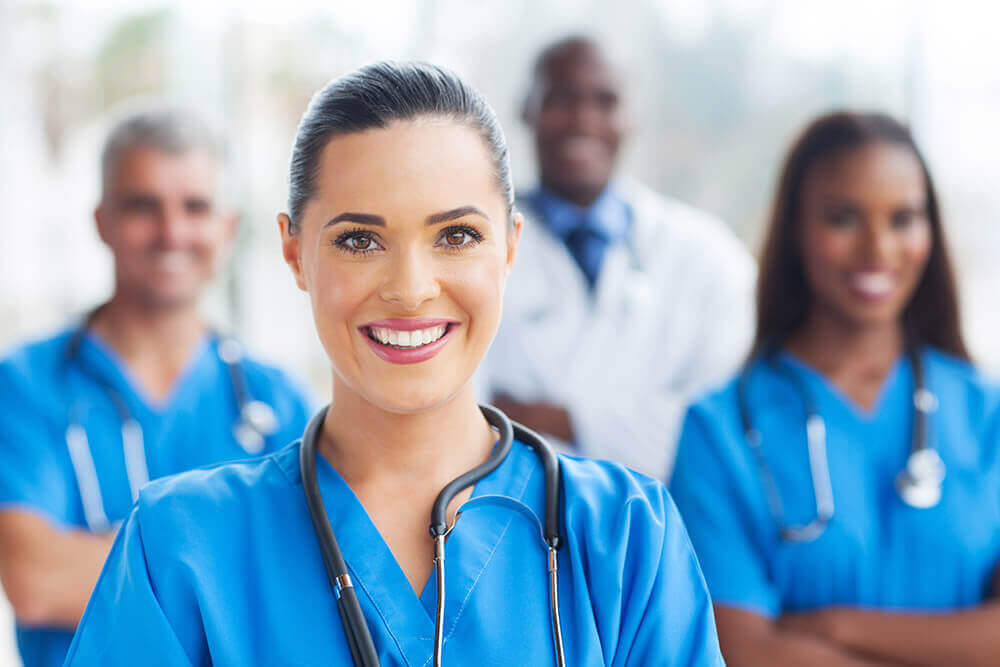 Even if you have completed your "formal" education as a nurse or medical professional, there are almost certainly a few additional certifications that you will need to apply for. As someone who is likely to be around individuals experiencing cardiac arrest or other cardiac emergencies, it will be extremely important to develop the skills and knowledge needed to save a life.
To prepare you to address these emergencies, most nurses will need to pass either the ACLS, PALS, or BLS Certification exam (in some cases, you'll need to pass multiple). These exams cover a wide range of topics and situations that will likely come up throughout your nursing career.
Each of the exams mentioned above will need to be renewed every two years by taking an ACLS Recertification, PALS recertification, or BLS recertification course. Fortunately, online certification and recertification portals make it much easier to maintain your certification and continue practicing in your field.
Who needs to complete the ACLS, PALS, and BLS certification exams?
While Advanced Cardiac Life Support (ACLS), Pediatric Advanced Life Support (PALS), and Basic Life Support (BLS) certifications are all very similar, there are still notable differences between them. The courses and exams that you will be required to complete will depend on your specific workplace and the type of work that you will be doing.
A BLS certification is required for all registered nurses. An ACLS certification does not cover BLS, though you may be able to bundle these two courses together, depending on where your certification is obtained. An ACLS certification is required for all nurses that will be working in the intensive care unit or will be working with adults, in general. A PALS certification, as you might expect, is required for all nurses that will be regularly working with infants and children. If you are unsure which setting you will be working in, begin by obtaining a BLS certification and completing additional certifications, as needed.
Key Things to Know About ACLS Certification
Advanced Cardiac Life Support (ACLS) is required for nurses working with adults or in an intensive care setting. Emergency room workers will also usually need to obtain an ACLS certification. Usually, the BLS exam is completed prior to ACLS training.
The American Heart Association has identified many different topics that are likely to be covered on the exam. In addition to reviewing the material already covered in the BLS course, you will review how to recognize respiratory issues and signs of cardiac arrest. Furthermore, you will cover various airway management strategies, stroke response strategies, basic pharmacology, and how to communicate as a team.
Key Things to Know About PALS Certification
Pediatric Advanced Life Support (PALS) certification will be very structurally similar to the ACLS certification but will have a special emphasis on administering care to infants and children. Because infants, unlike adults, are unable to communicate effectively, being able to recognize the onset of various problems will be especially important.
To prepare for the PALS exam, you will need to begin by reviewing how to administer CPR and how to use an AED with infants and children. You will also need to recognize the onset of cardiac arrest and also understand when an immediate intervention will be needed. Being familiar with different types of shock, as well as understanding patients with arrhythmias, will also be very important. Additionally, as you will find with all other exams included in this article, knowing proper communication and teamwork skills will be very important.
Key Things to Know About BLS Certification
A Basic Life Support (BLS) certification will be required for all registered nurses, as well as people working in a variety of non-medical fields. This may include lifeguards, teachers, coaches, flight attendants, and many other types of people. Of all the certifications included in this list, a BLS certification is among the most common (it is also usually the most affordable).
To pass the BLS exam, you will need to know how to perform CPR on all age groups (infants, children, adults). You will also need to know how to use an AED, how to establish ventilation, how to administer two-person CPR, and how to clear airways. Furthermore, you will need to familiarize yourself with the American Heart Association's "chain of survival." Because the best BLS practices are occasionally updated, it will be crucial to keep track of ongoing changes.
When do I need to obtain these certifications?
Because Basic Life Support certification is required for all registered nurses, you should obtain this certification as soon as you can. This specific certification will be required on your first day on the job, meaning that there is no reason to wait. On the other hand, you may be able to obtain a PALS and ACLS certification after you have already obtained a job. Usually, the window for getting certified will be between 90 and 180 days, though this can vary, depending on the requirements set forth by your employer. For all three certifications, you will need to apply for (and complete the corresponding exam) every three years.
Can I obtain and renew my certifications online?
In the digital era, an increasing number of nursing professionals are applying for and obtaining their certifications online. Online courses can be completed at your own pace, cost significantly less, and—usually—will offer a money-back guarantee in the event your certification is rejected. Most hospitals accept accredited online ACLS, PALS, and BLS certifications, but since this varies by hospital, it will be a good idea to check with your specific employer in advance.
Conclusion
ACLS, PALS, and BLS certification are very important for nurses around the world. Due to the skills and knowledge that these courses provide, countless lives have been saved. Whether you prefer to obtain your certification online or to obtain it via an in-person course, be sure to understand the requirements that are specific to your place of employment. By actively maintaining your certification and understanding the knowledge and skills that are required, you can make a tremendous impact on the lives of those who will need your help the most. For more information about online certification or recertification courses, visit www.emedcert.com or reach out to us directly.
Sign up for your ACLS, PALS, and BLS online courses TODAY!