Here's what to look for when trying to find the best online ACLS Certification or Recertification course for you.
---
The past few years have seen an increasing number of healthcare professionals turning to online Advanced Cardiac Life Support (ACLS) programs to fulfill their certification or recertification requirements. This upsurge is largely due to both the medical community's growing labor force, which has created more individuals needing these certifications than ever before and advances to the industry's technological capabilities. This has created more adequate online medical education opportunities.
While the traditional in-person, American Heart Association (AHA) accredited ACLS courses are still regarded as the standard, this simultaneous expansion to both the labor force and digital proficiencies has made online ACLS courses more widely accepted than in years past. With this, medical professionals are now left with an assortment of options to choose from – and dissecting these websites to determine their legitimacy can be quite the challenge. Thankfully, there are a number of things to look for from an online ACLS provider to ensure they are the right provider for you.
Before we start, it is important to know that the AHA does not accredit any 100% online ACLS provider, so online ACLS is not for you if your employer requires such a course. All AHA-approved ACLS certifications will have a portion of the course that requires an in-person skills test. Having said that, if your employer does not require an AHA-approved ACLS certification, then there are main advantages to online ACLS courses that may make this alternative route more favorable to you than the traditional classroom method. Now, the only thing left to do is determine which online ACLS provider is the best choice for you.
All of your options will feature similar general advantages – convenience and flexibility. However, certain websites are able to set themselves apart by the degree to which they provide those advantages, as well as offering additional features that others might not include. Here are several factors you should consider when determining how to find the best online ACLS provider:
Price
For many, this is an extremely important factor to consider when comparing online ACLS providers. For the most part, online ACLS certification courses typically range from $169 – $275, while recertification courses go for $119 – $175. The websites that sit near the higher end of the price spectrum may justify their higher price by including additional features to their course – videos, more practice training, etc. – that might not be included in the cheaper options.
At eMedCert, our ACLS Certification course costs $169, while our ACLS Recertification course costs $119.
Conversely, websites that sit near the lower end of the price spectrum justify their price by offering a more simple, straightforward approach without the need for these features. At the end of the day, however, the certification you'll receive from either option is the same. Most hospitals that allow online ACLS certifications do not have restrictions on the specific providers, so as long as the items throughout the rest of this list check out, you are usually better off going with the cheaper options. And no, there is no online ACLS course for free – at least not one that provides a certification your employer would accept.
Acceptance
Ideally, you want to select a course that is accepted both in the United States and abroad, but at the very least, they should be accepted nationwide. Aside from factoring into your own employer's acceptance, choosing an online ACLS provider that is accepted across the country and overseas further validates the legitimacy of the website.
Compliance
As mentioned earlier, no wholly online ACLS course is accredited by the AHA. However, the material presented throughout the course should still be evidence-based and adhere to the latest AHA guidelines, thus compliant with the current Joint Commission (JCAHO) standards. The FAQ page (if the website has one) is typically the best location to find out whether or not that website meets these criteria.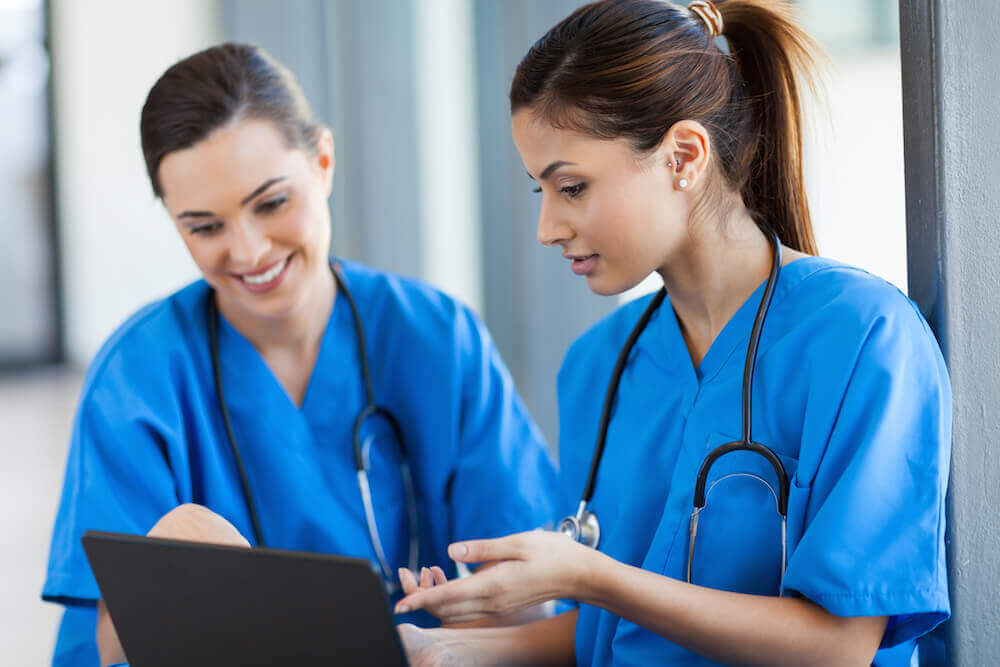 Customer Support
It's important to select a website that has a responsive customer service system in place that can assist you should any potential issues arise. There are certain components that should be in a place that can provide a good indication of how accommodating they will be. At a bare minimum, you want a website that provides an email address for you to contact them at any time and a phone number where you can reach them during normal business hours for more urgent complications.
Several online ACLS websites also have a chat feature that allows you to communicate with an operator via direct messaging. Even if you don't need assistance before making a purchase, make sure that these indicators are in place. Most websites have a 'Contact Us' page – this is the best page to go to in order to find this information.
Continuing Education (CE) Credit
Receiving CE credit along with your ACLS certification or recertification may seem like just an added bonus, but it's enough of a bonus to make a large impact when comparing relatively similar online ACLS providers. Earning CE credits through your ACLS course is a great way to help meet your continuing education requirements while obtaining your ACLS certification or certification at the same time. If continuing education is an important factor in your decision, it is important to understand the type of CE currency being offered, and its relevancy to your profession (i.e., AMA (physicians), ANCC (nurses), ADA (dentists), etc.).
The credit is typically awarded by the entity itself as long as it is an approved provider of CE or through joint providership/sponsorship of the course from an approved provider of CE. Online ACLS courses are typically structured as independent study or enduring materials activities that offer up to 8 hours for certification and 4 hours for recertification. The amount of time it takes to complete the activity is the metric for determining the amount of CE you will receive.
This information should be stated clearly on the website and customer support should be able to answer questions clearly and directly. This amount and type of CE offered does not affect the validity of the certification card itself, but can be useful in gauging your comfort level with the quality and validity of the content presented within the course. Though not accredited by the AHA, if CE is awarded for completing the course, the individual course or entity is accredited. Proof of accreditation should be available upon request.
Review Material Included
Be aware that some ACLS courses do not include study material in the quoted price, rather as an add-on. This is common in the case of ACLS recertification and should be factored into your assessment of the total price, as you should need to study materials in order to complete the course. Before making a purchase, verify that all purchases include the study material needed to prepare you for the exam. While most online ACLS courses do include their own study material, some also give you the option of also purchasing the AHA ACLS manual. Whether or not you want to do so is up to your discretion.
There is certainly value to adding the AHA manual to your studying repertoire, but it's not always imperative. If you do choose to do so, it's recommended to use it alongside the study material that the website provides as opposed to using it as a replacement, as the manual provided is the best indication of what you're likely to see on the exam.
Money-Back Guarantee
Always try to know beforehand whether or not your employer accepts non-AHA ACLS certifications to avoid any acceptance issues. However, it's also important to select an online ACLS provider that offers a 100% money-back guarantee in case you are unsatisfied with your purchase or any unseen problems happen to sprout up. The likelihood that you'll need to exercise your refund option is very low, but having that extra security to your purchase is a valuable feature.
Restrictions on Time and Attempts
The two biggest advantages to getting your ACLS certification or recertification online are the added flexibility and convenience – so don't select a provider that hinders that. You want to take an ACLS course that lets you work when you want, where you want, and at a pace, you're comfortable with. Make sure that there are no time restraints on your course, and that the website offers retakes (for no extra costs) should you not pass the exam on your first attempt. This allows you to have complete control of your online ACLS experience.
Testimonials/Recommendations
Testimonials and recommendations can be an extremely helpful tool when deciding which online ACLS program to go with. Ask around – some of your colleagues may have taken an online ACLS course in the past and can provide valuable feedback on specific websites. You can also use search engines to find reviews that other people have posted online. Many websites will place positive testimonials directly on their site, but a simple Google search can lead you to any third-party services and forums where you can find more honest, reliable reviews.
---
For more information on our ACLS, PALS, and BLS certifications, submit your questions to us.
Sign up for your ACLS online course TODAY!