Are you looking to obtain your ACLS certification? You may feel overwhelmed with choices when it comes to determining where to complete your training. In this blog, we will be diving into the 3 main benefits of receiving your ACLS certification online and show you why it's the best option.
---
Working in an environment as hectic and laborious as the healthcare industry requires you to place a lot of value on efficiency, flexibility, and time management skills in order to be successful. This not only applies to your daily tasks but also to receiving your required certifications.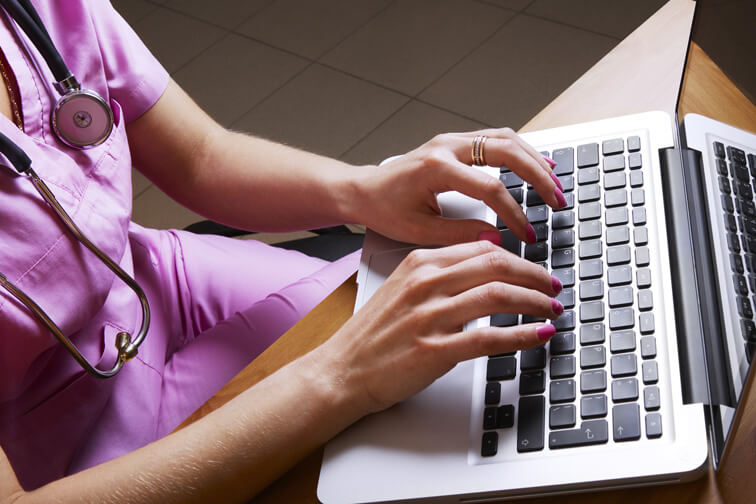 Thanks to advances in technology, getting certified in Advanced Cardiovascular Life Support (ACLS) is now easier than ever. In particular, there has recently been a surge in the popularity of online certification programs.
Online Advanced Cardiac Life Support (ACLS) courses are a perfect representation of healthcare's widespread migration towards online education. At eMedCert, we offer 100%-online ACLS certification and recertification programs.
Traditionally, ACLS courses have been classroom-based courses that required participants to complete both the course and exam in-person, while at a predetermined time and place. Today, however, a growing number of healthcare professionals can take their ACLS certification or ACLS recertification exam entirely online, which has led to a dramatic rise in the availability and use of online ACLS courses.
What are the Benefits of Receiving Your ACLS Certification Online?
There are many benefits to receiving your ACLS certification online. Some of the most prominent benefits are as follows:
Convenience
Learn ACLS where you want and when you want.
For most healthcare professionals, a hectic schedule is simply part of life. Especially when working in an emergency environment, you may find it as though you don't have much free time. Because of that fact, it's important to use the little time you have away from the hospital or office in an effective manner.
Taking your ACLS course online, rather than in-person, is one way to save you some much-needed time and energy. Online courses have a high level of accessibility and a low level of labor.
In particular, with eMedCert, you can finish your ACLS certification in as little as 2 hours. In addition, you can complete your certification from the comfort of your own home by using our completely online format.
The convenience of an online certification course is one of the biggest benefits. Don't get stuck trying to fit your personal life around your classroom-based ACLS course. Rather, you can fit your online ACLS course around your personal life.
Flexibility
Learn ACLS your way and at your pace.
Additionally, in-person ACLS certification courses struggle to accommodate the different learning styles that people possess. Furthermore, they have a set schedule, so it can be difficult to fit getting your certification into your life.
However, receiving your certification online can alleviate the stress that comes along with receiving your certification. At eMedCert, our online ACLS courses provide you with the material you will be tested on. You can download and print this information or simply look at it on your laptop, tablet, or mobile phone. Also, you are allowed an unlimited amount of time to study prior to taking your final exam.
Moreover, with eMedCert's online certification program, you can start and stop your course at any time. In addition, you can take your final exam as many times as you wish until you pass.
To make things even easier, we offer a free downloadable copy of your provider card upon completion of our course. Additionally, you will receive a hard copy in the mail.
Cost
Learn ACLS at a bargain.
There are varying prices for online ACLS certification courses depending on the provider. However, in general, all online ACLS courses are more cost-friendly than their classroom-based equivalents. At eMedCert, you can receive your online ACLS certification for only $169, which is considerably lower than the national average for in-person certification.
In addition, in-person courses also demand additional secondary expenses such as gas and parking. Furthermore, you may find that you need to take time off from work to complete your ACLS training, which can equate to another expense.
At eMedCert, our ACLS Certification course costs $169, while our ACLS Recertification course costs $119.
Conclusion
In the end, it can be seen that there are many advantages to taking your ACLS certification course online. The convenience, flexibility, and low cost of online ACLS programs are what make them so widely popular.
To find out more about our online ACLS courses, visit our website, or reach out to us today.
Sign up for your ACLS online course TODAY!