This ACLS pretest offers a comprehensive set of practice exam questions and answers to help you prepare for your upcoming ACLS exam.
---
You've studied the material inside and out. You've reviewed the algorithms, medications and doses, the H's and T's, and case scenarios over and over again. You've exhausted every studying resource you know of – notecards, videos, you name it. As you finally sit down to begin your Advanced Cardiac Life Support (ACLS) exam, you couldn't be more confident in your chances of passing. However, being familiar with the material you'll be tested on is only part of the battle; knowing what to expect from the exam stylistically can go a long way towards preparing you to pass your ACLS certification exam.
The best approach to develop a stronger understanding of what you should anticipate from your exam is to review ACLS practice exam questions and answers. Typically, you will want to pinpoint any practice questions supplied by the specific ACLS provider you are going through, as their practice questions will be the best representation for the format you can expect to see from the actual exam.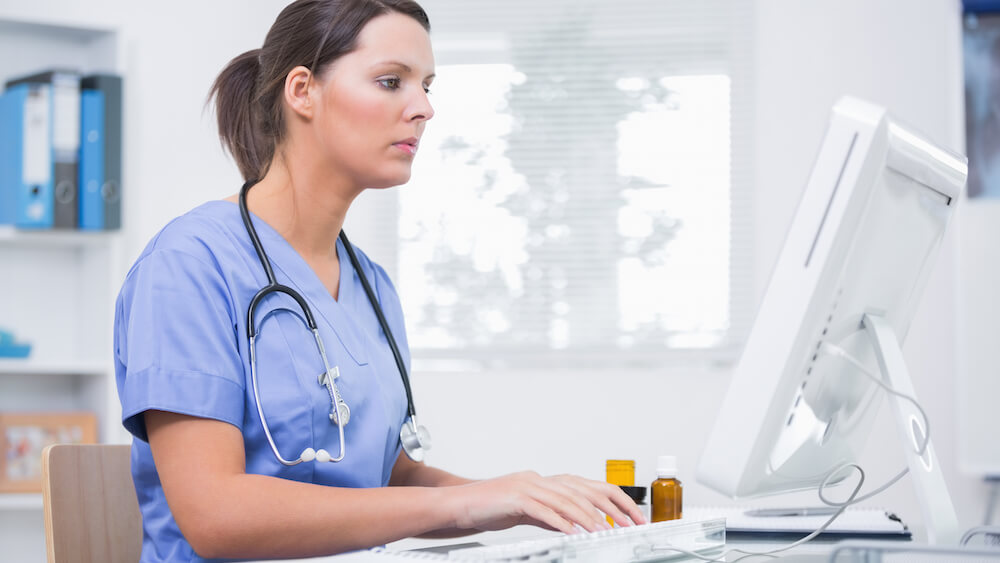 In addition to readying yourself for the structural aspect of your exam, practice questions are also a great self-assessment tool to gauge your knowledge of the subject. Though many resources are available that will help you study for your ACLS certification exam, few can match the level of preparation and feedback offered by practice exam questions and answers.
At eMedCert, we do our best to accommodate our customers' exam preparation by providing an ample amount of study material and resources for them to utilize. While these particular practice questions will not be seen in our ACLS Certification or Recertification exams, they are a direct portrayal of the type of questions you can expect to see throughout our course.
Answers are at the bottom of the page.
---
1. You respond to a patient in distress and find an unresponsive male lying on the floor gasping for air. What step should you take next?
A. Begin rescue breathing
B. Initiate CPR
C. Check pulse
D. Assume choking and perform abdominal thrusts
---
2. Why is proper size important when using an OPA or NPA?
A. Too large may block the airway
B. Too large may damage tissue
C. Too small may not adequately control airway
D. All of the above
---
3. You respond to a swimming pool where a person is floating facedown and is unresponsive. Which action do you perform first?
A. High-Quality CPR
B. Apply AED
C. Heimlich Maneuver to clear airway
D. Suctioning
---
4. Asystole is a common rhythm and should be treated with all the following EXCEPT:
A. CPR
B. Ventilations
C. Defibrillation
D. Epinephrine
---
5. You are treating a cardiac arrest patient. The AED is having problems analyzing the rhythm. Which of the following is the correct response?
A. Go find another AED
B. Pause CPR to troubleshoot
C. Read the owner's manual
D. Continue chest compressions
---
6. True/False: All Acute Coronary Syndrome (ACS) patients benefit from supplemental oxygen, and a nasal cannula should be used.
A. True
B. False
---
7. Your co-worker is acting strange. Which of the following suggests the possibility of a stroke?
A. Slurred speech
B. Dizziness
C. Arm weakness
D. All of the above
---
8. Which of the following are treated with synchronized shocks?
A. Unstable atrial fibrillation
B. Sinus tachycardia
C. VT without a pulse
D. VF
---
9. What is the correct dose for Procainamide?
A. 6 mg
B. 20-50 mg/min
C. 150 mg
D. 12 mg
---
10. A male patient experiences crushing chest pain. You respond and are performing initial care. What drug should you consider giving in all Acute Coronary Syndrome (ACS) patients?
A. Tylenol
B. Aspirin
C. Narcotic
D. High Flow O 2
---
Answers:
1. C
2. D
3. A
4. C
5. D
6. False
7. D
8. A
9. B
10. B
---
Additional ACLS Pretests:
Additional ACLS Study Material:
Conclusion:
eMedCert offers high-quality online ACLS, PALS, and BLS courses for medical professionals. To learn more about our certification and recertification courses, visit our website or send us a message.
Sign up for your ACLS online course TODAY!