Everything you need to know about Berocca, the mystery tablets also known as, "the hangover cure."
---
We've all been there. You know, that rough morning after one drink accidentally turned into two, and two turned into four. We're not proud of it, but it happens to the best of us at one time or another. There's not much worse than waking up with a pounding headache, wanting nothing more than a quick solution to curing your wretched hangover.
Well, gear up America, because there's a new solution in the town. Berocca, the miracle tablets that have been nursing thousands of hangovers in multiple countries over the years, recently announced that they were extending their reach to the United States. While the product itself has been around for quite some time, this is the first time it will be readily available stateside.
In light of this news, I've decided now would be an appropriate time to dig deeper into this so-called "hangover cure," and extract the significant information we newbies should be aware of. That being said, here's everything you need to know about Berocca:
What is it?
Berocca is an effervescent drink that comes in a few forms, the most popular of which is a tablet that is to be dropped into 8-12 ounces of water to drink. As Besha Rodell of L.A. Weekly describes it, think of Berocca as a cross between Alka-Seltzer and Emergen-C, only more effective. Berocca claims the concoction is intended to support mental sharpness and physical energy – two traits that are severely deficient and scarce when a hangover hits.
What is in it?
According to Berocca's website, the formula behind the magic is as follows:
B vitamins: B vitamins support physical energy by helping to convert food to energy.
Guarana and caffeine: natural guarana extract and caffeine support mental sharpness.
Vitamin C: An antioxidant that helps support immune health.
Zinc: An antioxidant that helps support immune health.
Plus, Berocca is a good source of magnesium.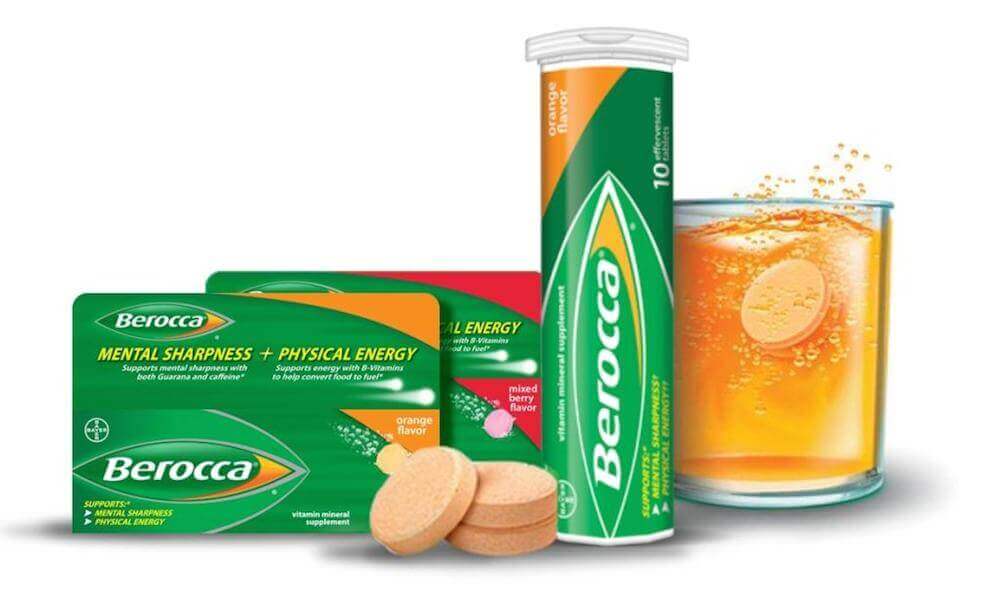 Who makes it?
The well-known Swiss pharmaceutical company Roche first invented Berocca in the 1960s. However, when Roche officially sold its consumer health business to Bayer in 2005, the German-based chemical and pharmaceutical company acquired the alleged hangover cure with it. Since then, Bayer has expanded the sales of Berocca dramatically to countries across the globe.
Where else has it been?
Berocca is now a global franchise trusted in over 70 countries – with the United States being the most recent addition. In certain countries, however, it might be more accurate to say the people depend on their beloved hangover cure, rather than merely trust it. Ashlee Vance of Bloomberg goes far enough to claim that taking a Berocca has become a Saturday morning tradition in Australia – where it has been extremely popular since the 1980s. Outside of Australia, Berocca is also a highly coveted hangover cure in South Africa, England, Korea, France, and dozens of other countries. The widespread appreciation and reliance on Berocca has led to loads of global praise, often hailed as, "The World's Hangover Cure."
Where can I get it?
Berocca's can be found at a variety of notable stores, including Safeway, CVS, Walgreens, Target, Walmart, and more.
Does it work?
Ah, the question you've all been waiting for. Who cares what's in it or who makes it – does it work? While Berocca doesn't market its product as "a hangover cure," there are reasons why those who take it do. Here's a direct quote from the Berocca website:
"Whilst there have been no studies conducted on the effect of Berocca on hangovers, alcohol can affect the absorption and use of the B group vitamins. Apart from the other essential vitamins and minerals, Berocca is a high-dose vitamin B supplement which may help restore depleted levels of B-vitamins. Drinking a lot of water or other rehydrating drinks will help towards preventing or lessening most hangover symptoms. Having a Berocca effervescent tablet in water may also help you rehydrate."
It would be brazenly fraudulent to say that Berocca will instantly eliminate all symptoms of every single hangover. Sadly, there is still no such thing as an ultimate hangover cure that will invariably heal any hangover at the snap of your fingers. That having been said, there are many remedies that can lighten the blow delivered by a hangover – perhaps none more effective than Berocca, the United States newly-adopted hangover cure.
---
eMedCert is a premier provider of online courses for ACLS, PALS, and BLS that are based on AHA standards. For more information, visit our website or contact us.