How long does online BLS certification take? Usually, BLS exams take between 2-5 hours. Learn how you can shorten the time it takes to complete your BLS certification in this comprehensive guide.
---
Basic Life Support (BLS) certification provides individuals with the skills, knowledge, and wherewithal needed to act in the case of a life-threatening emergency.
Doctors, nurses, firefighters, police officers, and other professionals frequently exposed to life-threatening situations will all need to get BLS certified. If you are unsure whether BLS certification is a requisite for your specific position, speak with your supervisor or industry representative.
BLS certification courses typically take about 4-5 hours to complete (though in some cases, they can be completed in as little as 2 hours). In the following sections, we will discuss everything you need to know about completing your BLS certification, including frequently asked questions (FAQ), time estimates, and how to obtain a certification and recertification.
What is Basic Life Support (BLS) Certification?
Basic Life Support training, as the term implies, is a course that will teach medical professionals, public safety professionals, and other individuals (teachers, coaches, lifeguards, etc.) how to act in the event of a life-threatening event. The course is very comprehensive and covers a wide range of different topics. The exact amount of time it takes to complete BLS training will depend on your already existing familiarity with these subjects and your overall rate of course completion.
The topics included in BLS training include the following:
How to revive, resuscitate, or sustain an individual experiencing cardiac arrest.
Recognizing and addressing different types of respiratory failure.
Basic mouth-to-mouth resuscitation.
Cardiopulmonary resuscitation (CPR).
How to clear obstructions from airways and allow air to flow to the lungs (Airway).
How to make sure that the lungs are consistently being filled with air (Breathing).
How to ensure that blood is continually circulating throughout the body (Circulation).
The last three points mentioned above—airway, breathing, and circulation—are often referred to as the "ABCs" of basic life support. These skills will not only equip you to act appropriately (and accurately) in the event of a life-threatening situation at work, they can also be applied in other situations as well.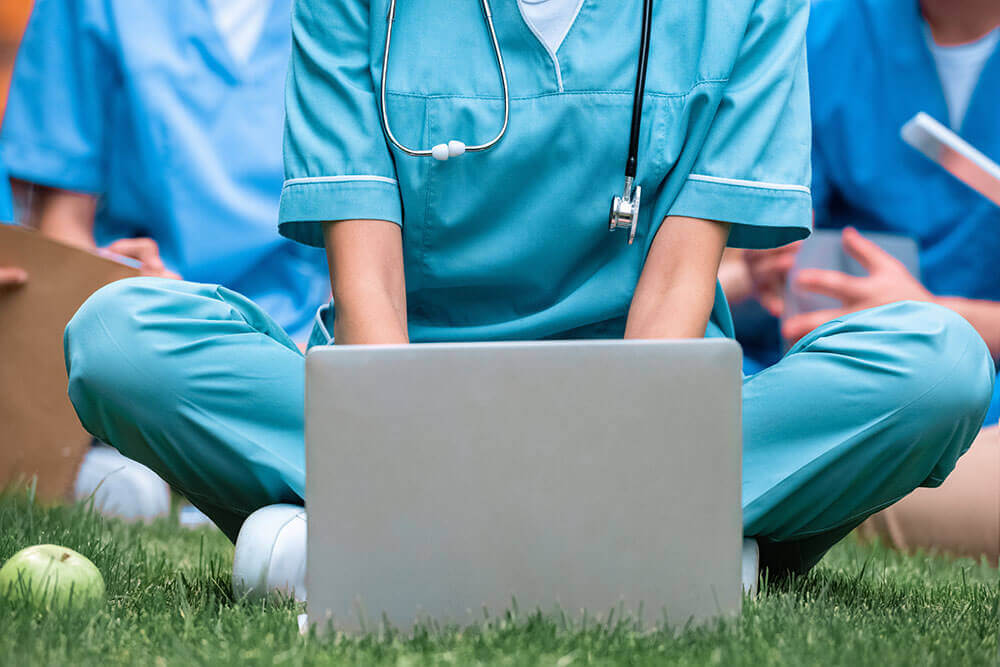 How Long Does it Take to Get BLS Certification?
One of the most common questions asked about BLS certification is "how long does it take to complete a BLS certification course?" The answer to this question will depend on a few different factors, such as your familiarity with the material.
If you are unfamiliar with the topics covered in a BLS certification course, completing the course will take roughly 4-5 hours. During this time, you will have ample opportunities to study the subject matter at hand, quiz yourself, and, ultimately, complete the exam required in order to receive full certification.
BLS certification exams can be taken as many times as needed until you receive a passing score. Naturally, people who need multiple attempts to take the exam will require more time than those who don't. In order to make sure you pass the exam on your very first attempt, we recommend thoroughly reviewing all available material and taking a BLS practice exam.
While 4-5 hours is a good benchmark for those who are taking the course for the first time, others may be able to complete it much more quickly. If you are familiar with the subject matter at hand, a BLS certification (or recertification) course can be completed in 2 hours or less. Because it's impossible to know how long the exam will take you to complete, it is a good idea to block off a timeslot of about 5 hours.
How Often Does BLS Certification Need to be Renewed?
As long as you are working in a field where cardiac emergencies (and other life-threatening situations) are common, you will need to make sure that your BLS certification is always up to date. Typically, BLS certifications will need to be renewed every two years. However, your workplace may also have continuing education (CE) requirements related to BLS certification that need to be completed every year, which is why it is important to clarify with your supervisor in advance.
Like BLS certification, related certificates—such as Advanced Cardiac Life Support (ACLS) and Pediatric Advanced Life Support (PALS)—also frequently have a two-year renewal requirement. In order to save time and money, you may want to consider bundling multiple certifications into a single course (which can often be done with online BLS certification options).
A BLS certification is valid for 2 years
What are the Benefits of Getting BLS Certification Online?
In some situations, your employer may require you to receive BLS certification or BLS recertification via an in-person course they provide themselves (usually with the help of the American Red Cross or the American Heart Association (AHA). However, if these specific requirements do not apply to you, there are several reasons why you might want to consider getting your BLS certification online.
Time: these courses can be completed in less than 5 hours, which is likely much less than an in-person course would require (especially when you account for things such as driving, setup, etc.).
Self-Paced: online BLS certifications can be completed at your own pace, which means that you may be able to finish the course in as few as 2 hours.
Efficiency: because you are the one directing your own course, you can breeze through the topics you're familiar with and still focus on the topics you need to learn more about.
Affordability: online BLS recertifications are available for as low as $60, which is notably less than you'd pay for an in-person course.
Convenience: work from anywhere you want. Start and stop your course as needed.
Companies like eMedCert work diligently to make BLS certification as easy, affordable, and accessible as possible.
Conclusion
Basic Life Support (BLS) certification is required for many different professionals, both in the medical field and elsewhere in the professional world. Usually, finishing the course can take up to 5 hours, but if you are familiar with the material, you can complete the course in much less time.
For more information about obtaining an online BLS, ACLS, or PALS course, visit eMedCert.com today.
Sign up for your BLS online course TODAY!