Think you're cut out for emergency room nursing? Here are a few of the most important responsibilities you'll face on a regular basis.
---
Emergency room staff play one of the most critical roles in a hospital setting - the frontline of triage and treatment for patients with everything from mild colds to extreme injuries. When it comes to an emergency room nurse, consider him or her the ace of hearts in a deck stacked with a whole team of medical professionals.
The duties of an emergency room nurse are vast and cover a lot of ground. However, in the fast-paced setting of an emergency room, they need to be executed quickly and cohesively. Here are 7 key responsibilities of an emergency nurse:
Triage
An emergency room nurse helps staff prioritize care based on the critical nature and severity of a patient's condition. A nurse's medical knowledge, quick thinking, and attention to detail lend a hand towards comprehensively assessing a patient's needs, obtaining their medical history and personal information, and seeking a doctor's evaluation immediately for life-threatening issues.
Taking Vital Signs
Logging vital statistics is a staple responsibility of an emergency room nurse. Taking vital signs includes recording a blood pressure reading with a blood pressure pump, as well as measuring pulse rate, respiration, and temperature throughout a patient's stay in the E.R. Vital signs provide a bird's eye view of a patient's state and alert nurses to changes in condition which might require a doctor's attention.
Administering Medicine
Once prescribed by a doctor, a nurse will be the one to legally administer medicine, whether it is in setting up and priming an intravenous (IV) infusion or handing over pills for swallowing with water. Sometimes E.R. patients will already be on existing medication that needs to be administered during their stay there. Nurses will confirm current medication lists with patient and family (or call on the hospital pharmacist to) and acquire in-hospital prescriptions from the E.R. doctor for those medicines.
Providing Treatment
In addition to dosing meds, emergency room nurses may help with medical treatment for everything from sore throats to kidney infections. Nurses may also assist with minor medical procedures as part of the treatment response, helping to stabilize a patient and assist the doctor with everything from suturing wounds to intubating critical patients.
Monitoring Patients
Nurses are responsible for overseeing follow-through on doctor's orders, from making sure medications are given to checking on completion and results of diagnostic tests that are ordered. While lab techs typically transport a patient in their bed to a diagnostic test, i.e. an x-ray or CT, when staff is short-handed, a nurse may be asked to assist. If a patient's condition changes or worsens while they are in the E.R., nurses are in charge of notifying the doctor right away. Patients and their families may make requests for simple things like another blanket or a snack, and nurses bear the responsibility of fielding these requests and keeping the patient comfortable.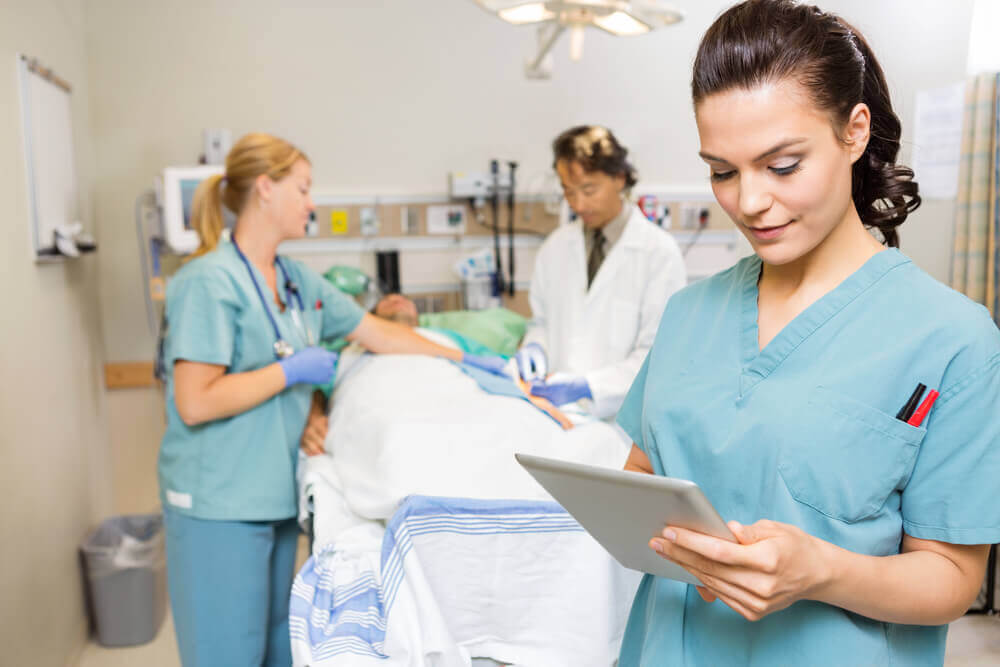 Charting
Emergency room nurses are required to chart all patient medical history, contact information, current condition, medications, and treatment, as well as update their electronic medical records throughout their stay in the E.R. Accurate documentation in a patient's chart gives other members of the medical team correct information to act on throughout the patient evaluation and treatment journey. Efficient and vigilant charting also protects hospitals and staff from potential legal liability down the line.
Discharge
When a patient does not require being admitted to the hospital and is deemed ready to leave the emergency room after treatment, their emergency room nurse handles the discharge paperwork, explaining it to the patient and their family/caregiver, and answering any questions they may have. They also confirm transportation from the E.R. with the patient, their destination (especially if they are going to a rehab or assisted living facility), and follow-up recommendations for care and doctor's visits.
In addition to acute and attentive medical treatment, emergency room nurses act as translators, advisors, educators, assistants, organizers, and therapists, proverbially speaking. As the liaison between the doctor and the patient, emergency room nurses require compassion, empathy, and a good bedside manner in their care. They may need to help calm a patient down, listen and answer their questions, or soothe them through reactions of shock and pain.
Emergency room nurses will also help translate complicated medical jargon from a doctor regarding diagnosis and treatment into understandable layman's terms for patients and their families. Upon discharge, emergency room nurses may be called on to educate a patient and their family about further care and treatment, i.e. how to dress a wound.
Working as a nurse in an emergency room requires patience under fire, high stress and anxiety tolerance, attention to detail, and superior communication and organizational skills, as well as a strong heart and ethic to help others.
Author Bio:
Nathan Bradshaw is an expert marketer who specializes in promoting and growing physician practices. He currently works with UrgentWay to help improve their online footprint and garner interest in their Urgent Care, Occupational Health and Health Services.
---
eMedCert offers high-quality online ACLS, PALS, and BLS courses for medical professionals including Emergency Room Nurses. To learn more about our certification and recertification courses, visit our website or contact us.