With healthcare costs climbing higher and higher each year, it's important for the medical industry to look for ways to reduce costs to provide the best possible care to their patients. Nurse practitioners are highly qualified medical professionals who not only serve as invaluable assets for hospitals and other medical facilities, but they can also help the healthcare industry save a significant amount of money. Continue reading to see how nurse practitioners work to reduce costs in the healthcare industry while still providing the best possible patient care.
---
In today's world, there are always ever-increasing needs in the medical field. Specifically, there is a desire for affordable healthcare and a need for more medical professionals in general. In particular, specialized nurses are in high demand.
According to a report published by Norwich University, over the next 10 years, over 118,000 nurses will reach the age of retirement. Furthermore, over 150,000 new physicians will be needed to meet the demands of aging baby boomers. Thus, it's important that medical facilities look for ways to meet the demand for patient care. However, it's also essential that they cut costs wherever possible.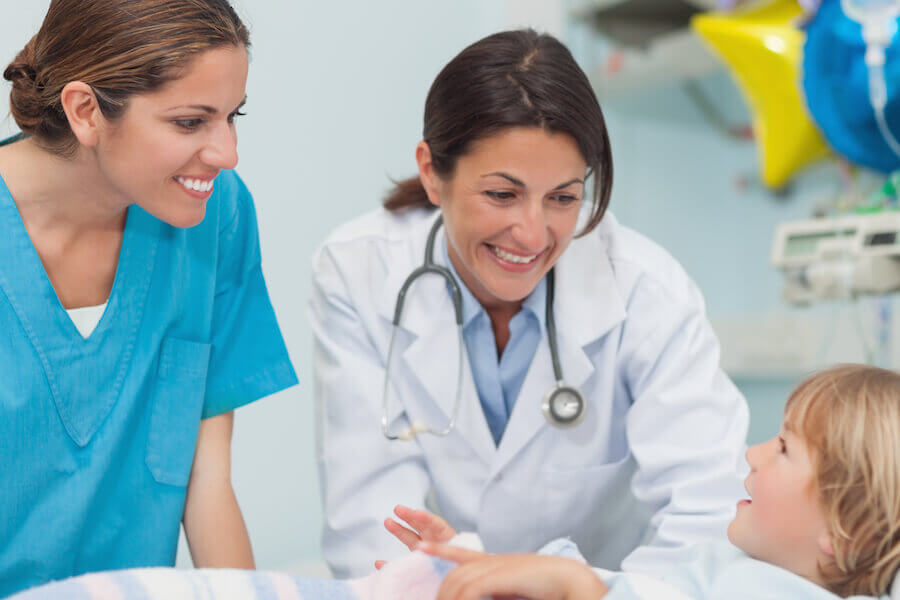 Because medical procedures are so complex, they are almost always very expensive. Therefore, the medical industry must try to keep internal costs as low as possible. Otherwise, it will be impossible to provide the level of care that people require without charging an exorbitant amount of money.
Luckily, there are some simple ways in which hospitals and other medical facilities can reduce overall costs. One of the best ways to do this is by employing nurse practitioners. Nurse practitioners are highly-trained and specialized nurses who can serve many functions while also reducing internal costs in the workplace.
What is a Nurse Practitioner?
Nurse practitioners (NPs) originally came on the scene in the mid-1960s during a period of physician shortages brought about by the advancement of Medicare and Medicaid. Because so many more people were suddenly receiving health insurance, the demand for qualified physicians increased dramatically. Thus, nurse practitioners entered the scene in order to fill in the gap between registered nurses and doctors.
In the beginning, nurse practitioners often worked in pediatrics. They were usually based in rural or impoverished areas where access to a qualified physician was often difficult to find. However, they soon expanded all over the world and into other fields including general practice and emergency medicine.
Today, nurse practitioners have been fully adopted in the healthcare system, and 52% of nurse practitioners now work in primary care. The position of nurse practitioner has been designed to be autonomous, meaning NPs can act as independent practitioners and are even able to open their own private practice.
Are Nurse Practitioners the Same As Doctors?
Nurse practitioners are not medical doctors. However, they do require much more schooling and training than other nurses, such as LPNs or even RNs. Nurse practitioners begin as registered nurses (RNs) and must log a number of clinical hours (depending upon the state in which they are practicing) before going back to school to obtain a master's or doctorate as a nurse practitioner. However, they do not have to attend medical school in the same way doctors do.
While nurse practitioners do not attend medical school, their intensive training allows them a very similar level of autonomy and authority as medical doctors. According to the American Association of Nurse Practitioners, NPs are able to provide many services due to their high level of education and multiple certifications. Some of these services include:
Ordering, performing, and interpreting diagnostic tests such as lab work and x-rays
Diagnosing and treating acute and chronic conditions such as diabetes, high blood pressure, infections, and injuries
Prescribing medications and other treatments
Managing patients' overall care
Counseling
Educating patients on disease prevention and positive health and lifestyle choices
Thus, it can be seen that even though nurse practitioners are not medical doctors, they are allowed many of the same responsibilities, such as prescribing medications. Therefore, they are often placed in roles that would otherwise need to be filled by medical doctors.
How Do Nurse Practitioners Save the Healthcare Industry Money?
There are many ways in which nurse practitioners save the healthcare industry money. Some of the most notable ways are as follows:
1. It's Cheaper to Educate Nurse Practitioners
When compared with medical doctors, educating nurse practitioners is significantly cheaper. For both the students and the higher education facilities, a lot of money can be saved by investing in nurse practitioners. According to an article published by Consumer Reports and researched by the New England Journal of Medicine, "between 3 and 12 nurse practitioners can be educated for the price of educating 1 physician."
Not only does this save the healthcare industry money when it comes to offering scholarships and other financial assistance, but it helps nurse practitioners as well. By becoming an NP rather than an MD, nurse practitioners avoid the rising costs of medical school and are thus able to avoid much of the associated debt. The average primary care physician leaves school with a burden of $141,000. Conversely, nurse practitioners only accrue approximately $64,000 of debt.
2. Nurse Practitioners Can Perform Many of the Same Tasks as Doctors
In addition, nurse practitioners can carry out many of the same procedures and services as physicians, but at a lower cost to their medical facility. Nurse practitioners can be qualified to deliver babies, write prescriptions, order tests, and diagnose illnesses.
According to a study released by Montana State University, NP primary care equates to a savings of 11 to 29 percent compared to physician primary care with no decrease in quality of care. Some of the only procedures NPs cannot perform are complicated/high-risk cases and surgeries, which will generally be referred to a physician specializing in that particular area.
3. Nurse Practitioners Cost Less to Employ
Because there are some limitations on the procedures the nurse practitioners can perform when compared with physicians, they are significantly cheaper employees for any medical facility. The average overall income of physicians is currently $299,000, while the average salary for a nurse practitioner is $113,900.
While nurse practitioners obviously still make a formidable wage, they cost significantly less to employ than MDs--especially those with rare specialties. This large salary difference also helps out with patient expenses when comparing those who visit nurse practitioners versus primary care physicians.
Conclusion
Nurse practitioners are highly-trained and specialized medical professionals. They can perform many of the same tasks as medical doctors, including writing prescriptions and diagnosing patients. In addition, they are significantly cheaper to educate and employ, and thus they can help to save the healthcare industry and the patients they serve a significant amount of money.
eMedCert is a proud supporter of our country's nurse practitioners, and we see the incredible value that they offer the community. That is why we offer fully-online PALS, ACLS, and BLS certifications and recertifications. We understand that nurse practitioners have a hectic schedule and seek to support them in their continuing education in the easiest way possible. For more information about the courses we offer, visit our website or reach out to us today.