With burnout rates rising, many healthcare professionals are searching for new work options in their medical careers. Here are 7 great options to consider for a second career in the healthcare industry.
---
Many people outside the medical field consider medicine to be one of the best career choices out there. From the outside looking in, the pay seems desirably high, the hours are eventually easy, and the prestige is some of the best in the modern job market. Yet, the doctors and nurses working in clinical positions know the truth: Practicing medicine is head-achingly, back-breaking hard, and sooner or later, you will want to quit.
Finding the right medical career options for you can be challenging. Variables such as salary, work hours, type of practice, and benefits will all need to be considered. Before committing to working with a specific hospital, be sure to consider many different medical career options, and perhaps consider meeting with a medical career advisor.
The rate of burnout is increasing amongst American physicians, roughly half of whom are considering leaving the field altogether. Clinical jobs in particular are among the most demanding and boast the highest rates of defection. If you are working in a clinical position, you might begin to notice an apathy toward patients, jealousy of non-clinical professionals, a fear of missing out on other career opportunities, or even disgust for medical practices, in general.
Whether you are a doctor or a nurse, you don't have to leave medicine entirely to find satisfying career options. Here are a few choices to consider when you finally feel done with clinical positions and want something as rewarding, but less physically and emotionally grueling.
Physician Advising
Clinicians have dozens of responsibilities to balance, which is perhaps why the job of physician advisors has seen such growth in recent years. This is one of the most common post-clinical medical career options currently available. Physician advisors work closely with clinicians to improve the documentation of patients, oversee compliance with quality and safety regulations, and interact with contractors and regulators. If you want a break from clinical work but like the idea of helping other practicing physicians succeed, this is the role for you.
Hospital Administration
Once you understand the ins and outs of working in a hospital, you are much better equipped to run the place. As a hospital administrator, you will have more authority to make a more significant difference in the lives of patients. Most often, physicians transition into the role of Chief Medical Officer, but that can require decades of clinical work to earn. By returning to school for a degree in hospital administration, you can fast-track into positions like chief operations officer, chief integration officer, chief administration officer, and chief strategy, innovation, and transformation officer. Because you understand how a hospital works, working as a hospital administrator may be a viable career option.
Health Informatics
No industry is free from the effects of Big Data - especially not healthcare. There are all sorts of data analysis jobs growing exponentially in your field, but the best for ex-clinicians is health informatics. Informatics is the acquisition, storage, retrieval, and use of healthcare information to facilitate collaboration amongst healthcare providers. This job requires some experience in medicine and science as well as skill and comfort with technology. You can boost your tech skills by completing a short but effective master's degree in Health Informatics degree online.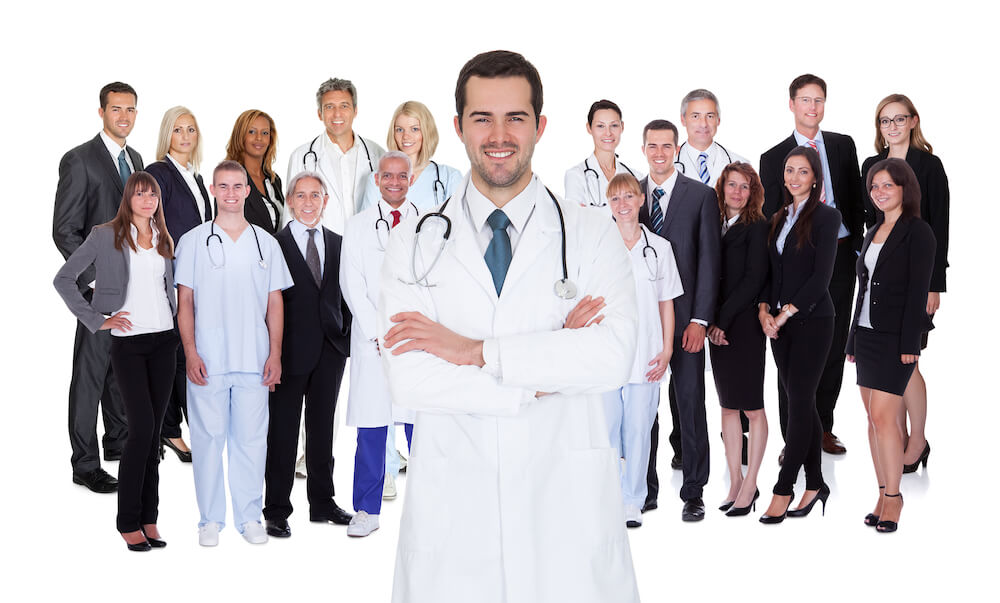 Insurance
Though most physicians view insurance companies as "the bad guys," working for an insurance payer is actually a chance for you to do good. Insurance companies are desperate to employ physicians to help them review claims, a process called utilization review. Thus, you will be identifying the possible overuse of services and improving the insurance system for everyone, including other physicians. Due to your experience working in a clinic, your industry insight will be extremely valuable throughout your medical insurance career.
Pharmaceuticals
Many doctors procure side-hustles slinging meds to other doctors, but transitioning from a full-time clinician to full-time work in pharma is more difficult. Most often, physicians move into research and development positions in the pharma sector, especially in specialties like oncology, cardiology, gastroenterology, neurology, and psychiatry. With enough experience, you might even become a drug-maker, a career that boasts exceedingly high, six-figure salaries.
Physician Recruiting
As a physician, you know what skills and traits are beneficial for the job. You might even recognize what types of people fit best in adjacent positions, like clinical research. Thus, you should consider transitioning into physician recruiting, which helps hospitals, practices, and other healthcare providers identify and attract promising professionals. Though the field can be difficult to break into, physician recruiting is rewarding, especially if you enjoy talking to people and traveling for work.
Teaching
When you don't want to do, you might still want to teach. Many doctors dream of influencing hordes of students by becoming a teacher, instructor, or fully-fledged professor. Because clinicians have experience explaining complex medical concepts to laypeople - i.e. patients - you likely would excel at building knowledge and skill in students. The highest-paying teaching roles are at universities, but you might need to return to school to procure a Ph.D. in addition to your M.D. or D.O. If that doesn't seem appealing, you might start your teaching career at a community college or high school. Ultimately, there are many different post-clinical teaching positions available to choose from, each with various benefits and drawbacks.
---
No matter what area you choose to continue your medical career in, it is always beneficial to stay up to date on your education. Many medical career options require all workers to obtain certain certifications. Online ACLS, PALS, and BLS courses from eMedCert are an easy way for you to stay credentialed as you shift within your career. Check out our website or send us a message.