Every state has at least a few graduate schools where nurses can get their master's degrees, but some graduate programs for nurses are more highly rated than others. Which nursing master's program is the best in your state? Find out here.
---
If there were ever a time to get your master's degree in nursing – it's right now. With increasing levels of political unrest flooding today's healthcare industry, there are plenty of reasons to be concerned about the future of nursing. Yet it is times like these, littered by turmoil and uncertainty, when the need for quality, proven nurses is at its highest point.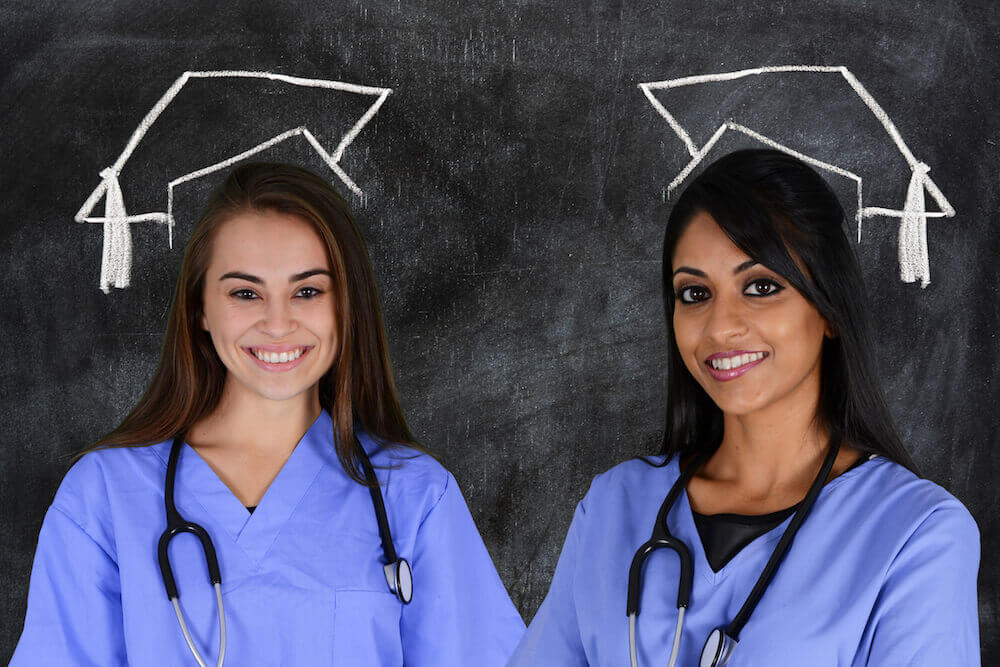 Hospitals across the country are constantly seeking nurses that are not only talented and knowledgeable but also dedicated to their craft and dedicated to the art of nursing as a whole. They are willing to offer more money and responsibilities to the select few individuals who display these traits, but a few years of nursing experience and a good interview isn't always enough to earn their trust.
You need something more; something that separates you from the rest and ensures you are exactly what they are looking for. Writing the letters 'MSN' after your name immediately puts you in that highly desired category. The best nursing schools in each state (featured below) will not only improve your credentials but can also help launch your nursing career.
The good news is that no matter which state you live in, there are several graduate schools offering a nursing master's degree program to help you earn those credentials. Thanks to this U.S. News study that scored and ranked the best nursing master's programs across the country, we were able to sort through and find the best option each individual state has to offer.
Here are the top nursing schools in each state for a master's degree:
Alabama
University of Alabama-Birmingham | Birmingham, AL
Alaska
University of Alaska at Anchorage | Anchorage, AK
Arizona
Arizona State University | Phoenix, AZ
Arkansas
University of Arkansas | Fayetteville, AR
California
University of California-Los Angeles | Los Angeles, CA
Colorado
University of Colorado Anschutz Medical Campus | Aurora, CO
Connecticut
Yale University | New Haven, CT
District of Columbia
Georgetown University | Washington, DC
Delaware
Wesley College | Dover, DE
Florida
University of Miami | Coral Gables, FL
Georgia
Emory University | Atlanta, GA
Hawaii
University of Hawaii-Manoa | Honolulu, HI
Idaho
Idaho State University | Pocatello, ID
Illinois
Rush University | Chicago, IL
Indiana
IUPUI | Indianapolis, IN
Iowa
University of Iowa | Iowa City, IA
Kansas
University of Kansas | Kansas City, KS
Kentucky
Frontier Nursing University | Hyden, KY
Louisiana
Loyola University New Orleans | New Orleans, LA
Maine
University of Maine | Orono, ME
Maryland
Johns Hopkins University | Baltimore, MD
Massachusetts
Boston College | Chestnut Hill, MA
Michigan
University of Michigan | Ann Arbor, MI
Minnesota
University of Minnesota-Twin Cities | Minneapolis, MN
Mississippi
University of Southern Mississippi | Hattiesburg, MS
Missouri
University of Missouri | Columbia, MO
Montana
Montana State University | Bozeman, MT
Nebraska
University of Nebraska Medical Center | Omaha, NE
Nevada
University of Nevada-Reno | Reno, NV
New Hampshire
Rivier University, | Nashua, NH
New Jersey
Rutgers University | Newark, NJ
New Mexico
New Mexico State University | Las Cruces, NM
New York
Columbia University | New York, NY
North Carolina
Duke University | Durham, NC
North Dakota
North Dakota State University | Fargo, ND
Ohio
Ohio State University | Columbus, OH
Oklahoma
University of Oklahoma Health Sciences Center | Oklahoma City, OK
Oregon
Oregon Health and Science University | Portland, OR
Pennsylvania
University of Pennsylvania | Philadelphia, PA
Rhode Island
University of Rhode Island | Kingston, RI
South Carolina
Medical University of South Carolina | Charleston, SC
South Dakota
South Dakota State University | Brookings, SD
Tennessee
Vanderbilt University | Nashville, TN
Texas
University of Texas | Austin, TX
Utah
University of Utah | Salt Lake City, UT
Vermont
University of Vermont | Burlington, VT
Virginia
University of Virginia | Charlottesville, VA
Washington
University of Washington | Seattle, WA
West Virginia
West Virginia University | Morgantown, WV
Wisconsin
Marquette University | Milwaukee, WI
Wyoming
University of Wyoming | Laramie, WY
---
For more on the methodology behind the rankings, see here.
While these are the best nursing schools for grad programs featured in each state, there are still many other great options available to choose from. If you are interested in pursuing a master's degree for nurses, be sure to compare multiple options and see if there is a perfect fit for you.
Additional "Best-Of" Nursing School Lists:
Take your nursing education to the next level with an ACLS, PALS, or BLS certification or recertification from eMedCert. Our online courses seamlessly integrate with your busy student schedule and will advance your knowledge to put you ahead of the curve. Contact us for more information.