If you run a large medical practice, you will inevitably receive some negative reviews. Here are our best tips and tricks for dealing with negative reviews as a physician.
---
Negative online reviews have become a force to be reckoned with, especially for businesses in the medical profession. Negative reviews for physicians not only damage the doctor's reputation but can also keep your practice from growing. While your firm should certainly encourage positive feedback, some negative reviews are simply unfair and will need to be dealt with. Recent survey results show approximately 72% of patients turn to online reviews as a first step when searching for a new doctor. Under these conditions, you can't afford to ignore bad reviews.
The importance of social media for doctors has tremendously increased over the past years. Physician accountability carries a heavy load all by itself. Today, patients demand convenience and compassion as part of the package. While it's impossible to please everyone all the time, transparency–more than anything else–offers the best way to combat negative reviews. Even with HIPAA regulations dictating what can and cannot be discussed, a certain level of transparency is still possible.
As you likely know by now, negative reviews from patients can involve any number of different scenarios, so it helps to have an arsenal of approaches to work with when responding to negative reviews. In this respect, knowing how to deal with negative reviews in transparent ways can keep your reputation from going up in flames.
Transparency and the Doctor-Patient Relationship
Once upon a time, patients had limited access to medical information, leaving them with little recourse but to blindly trust the authority of doctors. The Internet has changed all that. Patients are doing their research and, as a result, have taken an active role in their healthcare. These conditions alone have increased the need for transparency in the doctor-patient relationship.
When dealing with unhappy patients, openness and honesty pave the way for a stronger doctor-patient bond. Using transparency to deal with negative reviews provides medical practitioners with opportunities to:
Be accountable to their patients
Educate patients on processes and procedures
Build a rapport with dissatisfied patients
Let the patient know his or her concerns are taken seriously
These simple actions will not reduce the likelihood of receiving negative reviews as a doctor, but they will also help improve your social media presence.
Ways to Deal with Negative Reviews
Observe HIPAA guidelines and Patient Privacy
First and foremost, patient privacy issues must be respected when posting a response in an online environment. You can, however, respond to complaints in general terms that protect the patient's identity. Depending on the situation, general terms may entail explaining office policies, standard office procedures, or anything that applies to all patients. While this approach may not work in all circumstances, it can serve as a guideline for determining if alternative options should be considered when responding to negative reviews.
Present a Definite Plan of Action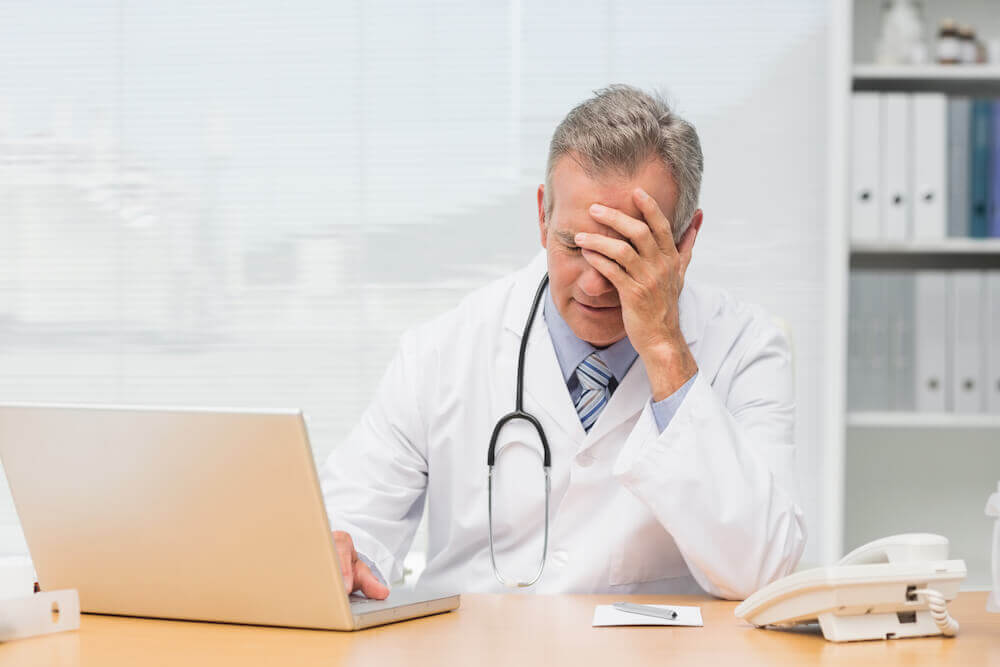 While acknowledging a reviewer's comments is important, demonstrating a willingness to do something about the situation shows that you're taking the reviewer seriously. For example, a response to a comment about long wait times would explain the steps your office is taking to address the problem, such as trying out different strategies for patient scheduling. In regard to transparency, letting the reviewer know you're aware of the problem and taking steps to correct it helps deescalate the situation. In this way, if a prospective patient sees this review, they not only see a problem with your practice but a willingness, on your part, to solve it.
Take the Response Offline When Necessary
When negative reviews delve into complex or delicate areas, you may want to consider taking the response offline after offering a positive online comment. Calling a patient to discuss the issue or inviting him or her into the office for a sit-down allows you to address patient concerns directly without worrying about privacy matters. If you and the patient are able to reach some type of resolution, the patient may well take down the response or add another review that lets others know your office took steps to resolve the matter.
Encourage Good Reviews
Something to keep in mind when dealing with negative online reviews is prospective patients will first see an overall rating of your practice on review sites. So, several good reviews versus a couple of negative reviews shouldn't be a problem. In this respect, you can tip the scales in your favor by encouraging existing patients to post reviews about your practice. A good way to ensure the reviews posted are actually positive is to have patients fill out a survey questionnaire that rates your practice on a scale of one to ten. Patients who give you nine or ten ratings are the ones you want to post online reviews.
Put Good Feedback to Good Use
When viewed in a positive light, negative reviews may actually provide you with targeted feedback that applies to your medical practice. Granted, negative reviews can make a dent in your reputation, but some may actually contain information that can help you improve your practice. It's always a good idea to validate whether a review contains valid points. In cases where the reviewer is right, consider taking steps to correct the problem and post a response that shows you're doing just that.
Build an Online Presence
Rather than letting online review sites take the lead in telling prospective patients about your practice, take steps to build an online presence of their own. Since the Internet is practically a world of its own, this can be accomplished in any number of ways. First off, a website for your practice should be at the top of the list.
From there, joining select social networks and sites where prospective patients are likely to be will help raise your listing in search engine results. Social networks, in particular, allow you to create business profiles with the ability to invite other members to join a group (or groups) that you create. Content marketing also offers another way to build your online presence, which entails posting informative articles on network sites as well as on the website for your practice.
Two or more of these strategies combined will help build an online presence for your practice. In this way, prospective patients will see sites that present a presence and reputation of their own making and not just online review ratings.
In conclusion, being transparent in your approach to dealing with negative online reviews can help turn things around to your advantage. Ultimately, closing the gap between what patients perceive and what's going on behind the scenes helps protect the reputation of your practice. Closing the gap also creates opportunities for improved doctor-patient relationships.
---
Running a successful medical practice means being prepared for the unexpected. Keep your medical practice up to date with continuing education like ACLS, PALS, or BLS. eMedCert offers comprehensive online certification and recertification courses. Our Group Options make it easy for you to keep your staff on track. For more information, visit our group page or send us a message.