Gaining new patients is only the first step, now it's time to make sure they come back. Implement these simple tips to improve your patient retention rates.
---
In an age dominated by the constant influx of innovative marketing opportunities and stiff competition, medical practices spending much of their time and money on attracting new patients has become the new normal. Because patient retention costs significantly less than finding new patients, implementing various strategies for retaining patients will be a key component of your broader campaign. If you can successfully find ways to attract and retain patients, your practice can generate a steady level of income for many years to come.
It goes without saying that spending time attracting prospective patients certainly has its place (I've even written about its importance and tips on improving your online reputation in order to do so). However, when your marketing strategy becomes obsessed solely with this one aspect, you're in trouble. Getting a patient into your office is the hard part – but your patient retention rate will ultimately be what has the measurably largest impact on your bottom line.
The key to patient retention is delivering a level of care and service to the patient that meets and exceeds the desires of the particular individual. This may include plenty of small acts – offering a bottle of water upon arrival, having a clean waiting area, having a receptionist answer the phone as opposed to a machine, etc. – that will go a long way with your patients. However, those things are to be expected. In order to ensure your patient retention strategy will be a successful one, you have to go above and beyond.
Here are 5 ideas to help you retain patients:
Build an Efficient Follow-up Process
Following up with patients after their visits, especially after their first initial visit, is tremendously important when trying to bring them back for additional visits. Building trust is key, and taking the initiative to reach out to them shows you care about their wellbeing. As often as possible, have the physician who saw the patient contact them, preferably by phone. At the very least, send a follow-up email thanking the patient for choosing you and letting them know how to contact you with any questions they may have. Whatever your follow-up system may be, the main function should be to help establish and build upon the newly acquired doctor-patient relationship by expressing your devotion and care for their health. Not only will this increase your patient retention rates, but it will also likely generate some positive reviews.
Use a Quick, Easy Scheduling System
Patients should be able to schedule their next appointment in multiple ways. The best way to retain patients is to make it easy for them to come back in the future. Some patients like to schedule their next appointment immediately when they finish their current appointment while they're still at the office – let them. Some people like to wait and schedule their appointment over the phone or via email – let them. Also, another tool that is becoming increasingly popular is an automated scheduling system that allows patients to go online and schedule their next appointment by selecting an open time slot that fits their schedule. By offering multiple options, you are making it easier for these new patients to schedule their return to your office.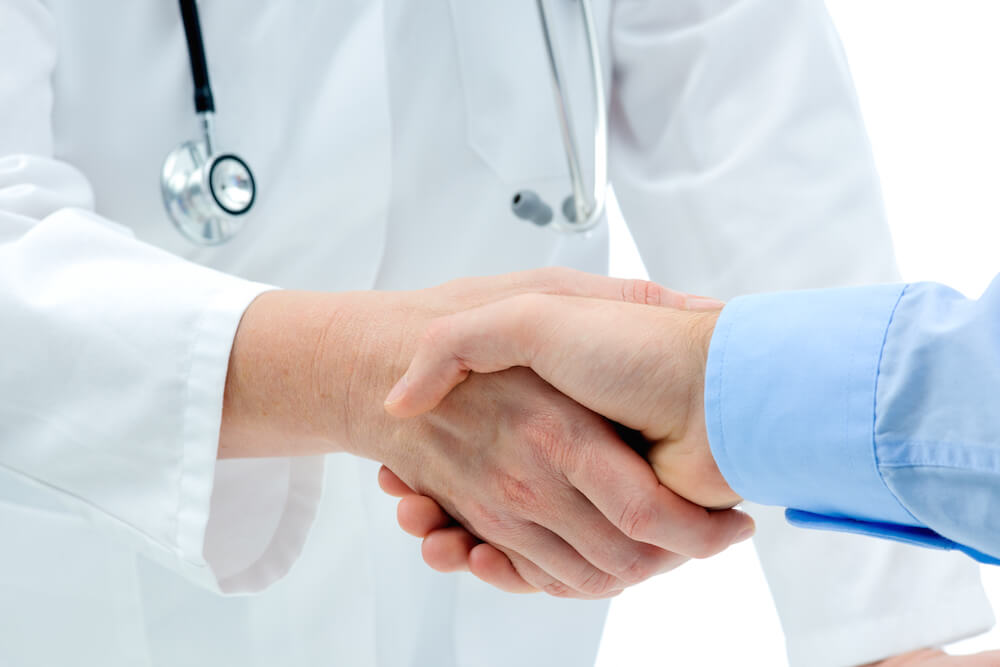 Be Active on Social Media
There are all sorts of articles about the benefits and risks of doctors using social media. We strongly believe that social media absolutely has its place in a doctor's marketing efforts as long as he/she knows how to use it. Social media is a reminder that your practice exists, offers value, and is an effective thought leader--each of these things will play a crucial role in your patient retention rates and your ability to generate future revenues. Assuming you know how to use social media, don't be afraid to exploit its potential. Social media is an extremely powerful resource in today's world. You do need to know where to draw the line between what is acceptable to post online and what isn't, but having a social media presence that your patients' can follow helps them become more comfortable with what you have to offer.
Set Up an Email List & Online Newsletter
Creating an email list can be as easy as asking patients for their email addresses when they fill out their initial contact information sheet. With consistent contact, your ability to retain patients will steadily improve. Getting the most out of that email list requires a little more work - the extent of that work is up to you. Sending an online newsletter sent out to your patients is an easy way to keep them updated on important dates, to give them tips and reminders, and/or to let them get to know you better. It is a great outlet for any information in general that you feel is important for them to know, and taking the time to write to them demonstrates how committed you are to your patients. How often you write to them is up to you (weekly, bi-weekly, monthly, etc.), but sticking to a consistent schedule is definitely recommended.
Offer Top-Notch Customer Service & Communication Skills
This one may seem a bit obvious and purposely vague, but it's simply too important to be left off the list. Without a doubt, the single most important factor in determining whether or not a patient will schedule a return visit is how they are treated in your office. From receptionists to physicians, how you communicate with your patients can make or break the relationship. Get a feel for individual patients. What are their motivating values? What do they look for in a doctor-patient relationship? There's nothing wrong with slightly differentiating your service to cater to the needs of each individual patient. Yes, this takes more time and effort, but it's well worth it. Treat them well, treat them with respect, and treat them with care. The rest will take care of itself.
Conclusion
You can spend all the money you have on the chance of having an opportunity to make a good first impression, but that doesn't guarantee a new patient will come back. Retaining patients requires an ongoing effort, and the willingness to try new patient retention strategies. This is what makes the disparity between the effort and resources devoted to obtaining new patients and retaining those patients so mystifying. What it boils down to is this: spend more time working to retain your current patients, and less time worrying about how you're going to attract new ones.
---
eMedCert offers high-quality online ACLS, PALS, and BLS courses for medical professionals. To learn more about our certification and recertification courses, visit our website or contact us.