Find out how to be the best nursing student you can be and reach your full potential by following these 8 strategies to truly stand out in your nursing class.
---
There's no denying that getting through nursing school is a big commitment that requires time, effort, and money. However, in order to become the best nurse you can be, it's critical to go beyond the minimum necessary to pass nursing school. To borrow the common phrase, you don't just want to survive your nursing program; you want to thrive! Fortunately, advancing as a nursing student is easier than many people assume. Here are 8 strategies to help you ace nursing school as a standout student:
1. Start off prepared
You want to start the program on the right foot, so buy everything you need beforehand: textbooks, a planner, scrubs, a stethoscope, nursing shoes, etc. The first week as a nursing student will be an adjustment, and you don't want to add errands on top of everything else you'll have to juggle. In addition, as soon as you get your schedule, put all the important classes, assignments, and exams into your planner so you'll have all your due dates in one place. If you're worried about losing the planner, an online calendar works too — just have some type of master document where you can keep track of everything.
2. Ask questions
Being a nursing student can be very challenging. Questions are an excellent way to demonstrate that you care about the work you're doing and that you're engaged with the material. Of course, you can ask questions in class, but you can also catch your instructor after class or seek her out during office hours if you want to have a more involved discussion. Once you get to clinical work, asking questions becomes even more important because you're actually helping to take care of patients. If you don't know how or why something is done, don't be afraid to ask about it.
3. Stay on top of assignments
This may seem like basic advice for nursing students, but it's really easy to turn an assignment in late — or simply not turn it in at all — once the commitments of nursing school really begin to pile up. The paper or quiz seems like such a tiny fraction of your grade, so it doesn't really matter if you do it or not, right? But late or absent homework will quickly add up and negatively impact your grades, and this kind of behavior signals to your instructors that you can't be bothered with details, which is never a good trait in a nurse.
4. Get outside help when you need it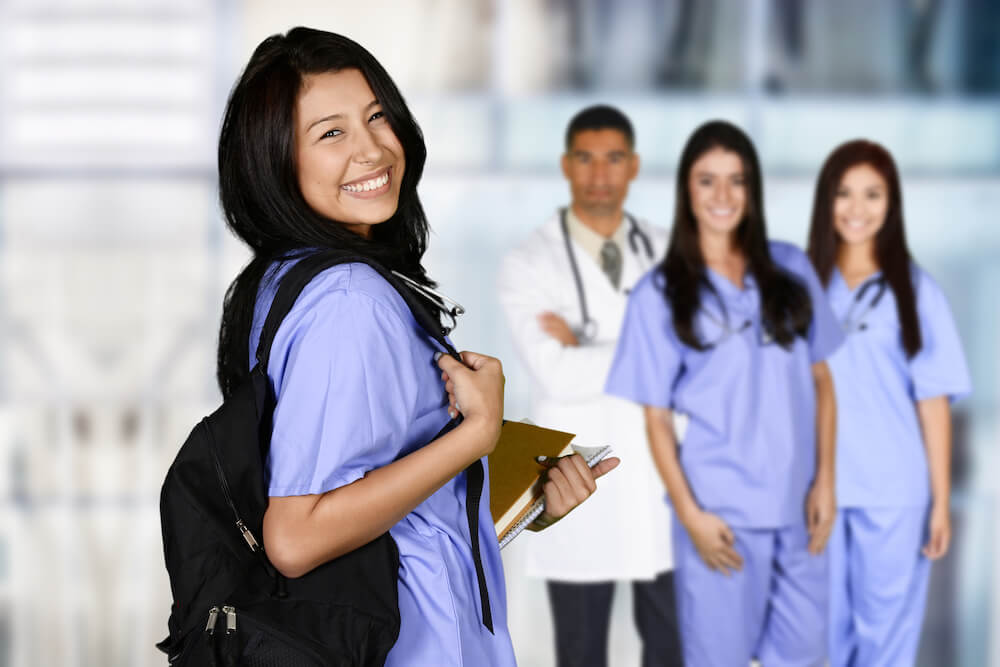 Managing the workload in nursing school can be overwhelming at times, and if you do find yourself struggling to keep up with assignments, there are resources that can help before it becomes a problem and negatively impacts your grade. Many larger universities offer scholastic tutors and writing coaches to help students of all programs with assignments, including nursing students. There are also nursing program-specific tutors available, including study prep for the National Council Licensure Examination (better known as the NCLEX, in nurse speak). By taking advantage of the best resources for nursing students, you will be much more likely to get the grades you need.
5. Help fellow students study
Nursing itself is a collaborative effort; your classmates can also be a great study resource. Not only does forming a study group keep you accountable, but it also gives you a chance to tap other students who may understand certain sections of the material better than you, and vice versa. In addition, study groups help you harness what's known as "the protege effect," a phenomenon that occurs when student teachers score higher on tests than people who are studying on their own. By going over material with your classmates, you're helping both them and yourself learn, which increases the chance that you'll retain the material.
6. Put feedback into action
Nursing students come from many different backgrounds. If you got your associate or bachelor's degree in the humanities, your professors' comments on past assignments might have been more subjective, rather than a clear-cut case of getting the answer right or wrong. But since the stakes in nursing school are so high — a patient's life could literally be on the line one day — pay close attention to the feedback you get from instructors and clinical supervisors, then make improvements based on what they're communicating to you. The feedback won't always be given kindly, but try to set aside the delivery when you can, don't take it personally, and focus on constructive criticism. After all, feedback isn't helpful if it doesn't result in any changes!
7. Take responsibility
Nursing students are only human, and at some point during your program, you'll inevitably struggle or make a mistake: forgetting to turn in an assignment, writing down the wrong date for a test, missing a quiz. If you find yourself not doing so well in the class, be proactive and talk about it with the instructor rather than ignoring the issue. They might be able to provide extra credit opportunities, give you an extension, offer you study resources or otherwise help you get back on the right path — but you'll never know unless you ask.
8. Go above and beyond
During exam weeks, doing anything more than what's required may seem impossible. But when you can, try to do more than what's asked of you: Read extra materials on topics relevant to your possible specialties, or be the first person to volunteer during clinical work. Utilizing study guides for nurses, reviewing common nursing student questions, and looking for other outside study materials will help you gain a competitive edge. You won't always have the capacity to do this, but when you do, it's a great way to telegraph to instructors and supervisors that you're truly passionate about the work and willing to put in the extra effort to become a great nurse.
While we can't guarantee you'll become the valedictorian of your class, following these eight strategies will help you become the standout nursing student you're meant to be. And if nursing school is the second round of higher education for you and you didn't do so well on your first degree, don't fret — it's never too late to become a better student, and these tips are a great starting place to help yourself form good scholastic habits.
---
Take your nursing education to the next level with an ACLS, PALS, or BLS certification from eMedCert. Our online courses seamlessly integrate with your busy student schedule and will advance your knowledge to put you ahead of the curve. Contact us for more information.