Observing Sunbelt Staffing's several metrics to determine which cities in the United States are most suitable for nurses to call home.
---
Nursing is one of the most admirable, important, and gratifying careers out there. It takes a special type of person to become a nurse – a determined individual tough enough to endure anything, yet affectionate enough to understand everyone. Most in the profession had their heart set on becoming a nurse from an early age – they simply couldn't imagine doing anything else. Thanks to that deeply rooted passion for helping others, most nurses would be happy working anywhere. However, that doesn't mean some places aren't better than others.
To be clear, it's virtually impossible to create a definitive "best places to live" list that applies to every individual. There is simply too much subjectivity and personal preference involved to prevent crowning a definitive winner. That having been said, certain measures can be taken to create an unbiased list based on a particular set of criteria. That is exactly what Sunbelt Staffing did when they recently published a study listing their "Top 10 Cities for Nurses in the U.S.A."
The formula used to generate these rankings was based on three main categories: location, financials, and quality of hospitals. The location score derives from the concentration of jobs in the area. The financial score is obtained by measuring the average wage of three nursing positions (nurse anesthetists, nurse practitioners, and registered nurses) adjusted in accordance with the cost of living in a given city. The hospital quality score comes from Leapfrog's hospital safety grade. Once each city had an individual grade for each of those categories, they were combined to create a singular overall score.
As a result, they were able to list their 10 best cities for nurses to live in in the United States. The results are as follows:
Overall Rankings:
Rochester, MN
Durham, NC
Winston-Salem, NC
Huntington, WV
Cape Girardeau, MO
Columbia, MO
Knoxville, TN
Pueblo, CO
Jackson, MS
Bloomsburg, PA
Here's how the top 10 cities for nurses scored in each specific category: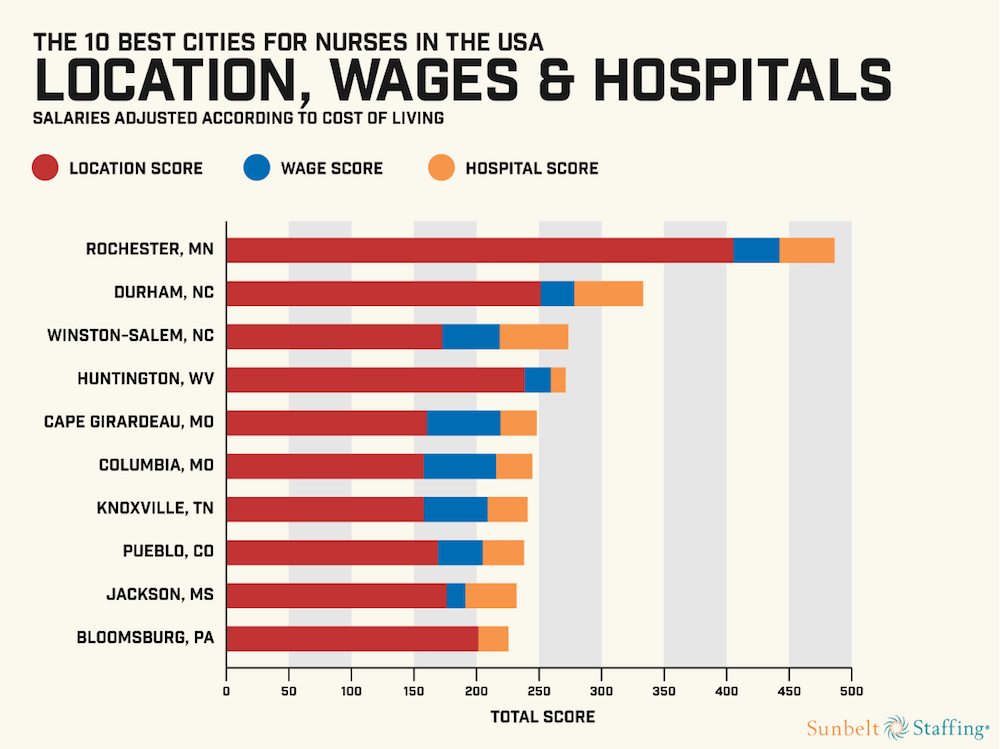 Additional "Best-Of" Lists for Nurses:
No matter where you live, eMedCert makes it easy to complete your ACLS, PALS, and BLS certification or recertification. To learn more, check out our website or contact us.