Our medical courses provide you a lifetime of convenient career opportunities. Check out how an ACLS, PALS, or BLS certification can help you today.
---
Even though nurses, doctors, and other medical providers are in high demand, it's still important to take proactive steps to advance your healthcare career. Professional development can open up new career opportunities for you and give you an advantage when you're seeking a competitive position. One of the best ways you can advance your healthcare career is to earn professional life-support certifications.
A Stronger Work Portfolio and Education
To become a nurse or doctor, you need to earn your degree and also pass the licensing exams. These educational requirements are designed to prepare you to handle the situations you'll face on the job. However, there is always more you can learn.
Be Ready for Anything
Even the best nursing degree program can't prepare you for every possible scenario. A lot of your knowledge and techniques are obtained simply by working as a nurse. The more knowledge and experience you acquire, the better care you can provide your patients.
A great way to enhance your hands-on experience and formal education is to earn professional certificates. Life support certifications, such as Advanced Cardiac Life Support (ACLS), Pediatric Advanced Life Support (PALS), and Basic Life Support (BLS) are especially useful. These courses can give you the skills to handle intense situations where a patient's life is in your hands.
Access More Career Opportunities
Adding highly sought-after professional certifications to your resume can offer benefits for you as well as your patients. Augmenting your portfolio with a BLS, PALS, or ACLS Certification is typically a requirement, and in some cases might even make yourself eligible for a pay raise or promotion.
When you complete an ACLS, PALS, or BLS Certificate from eMedCert, you will also be eligible to earn continuing education credit. Some states and medical facilities require nurses and other healthcare providers to earn CME credits annually to maintain their licenses and/or working credentials. You can quickly and conveniently get up to 20 CME credits for completing your ACLS, PALS, and BLS Certifications.
Convenient Access and Savings
When you choose eMedCert for your BLS, ACLS, or PALS Certification, you can enjoy several benefits. Our unique online program makes it easy to fit your certification or recertification requirements into your life without upsetting your work schedule or downtime.
As soon as you pass the exam, you will get instant access to a digital version of your BLS, ACLS, or PALS Provider Card as well as your CME Certificate. You will have a hard copy of your certification shipped to you for free.
Online and COVID-Friendly
Our online courses are completely self-paced and COVID-friendly so you can take as much time to learn and heal up from those nasty symptoms! Everything is available 24/7, and there's no time limit you need to follow.
You could complete everything in a single session or as many sessions as you like. Whenever you need to take a break, you can save your progress. Online courses are extremely convenient, especially when there are health concerns with in-person meetings. If you don't pass the first time, you can retake the test as many times as you like.
eMedCert also offers the following self-assessments that you can use to determine when you're ready to take the online exams.
Several Cost-Saving Options
Another great benefit of our online certification and recertification programs is affordability. Each certification course is available for a competitive price, and you can save even more with the ACLS, PALS, and BLS bundle. When you purchase the ACLS and PALS Certification or Recertification courses, you get a BLS Certification or Recertification course for free.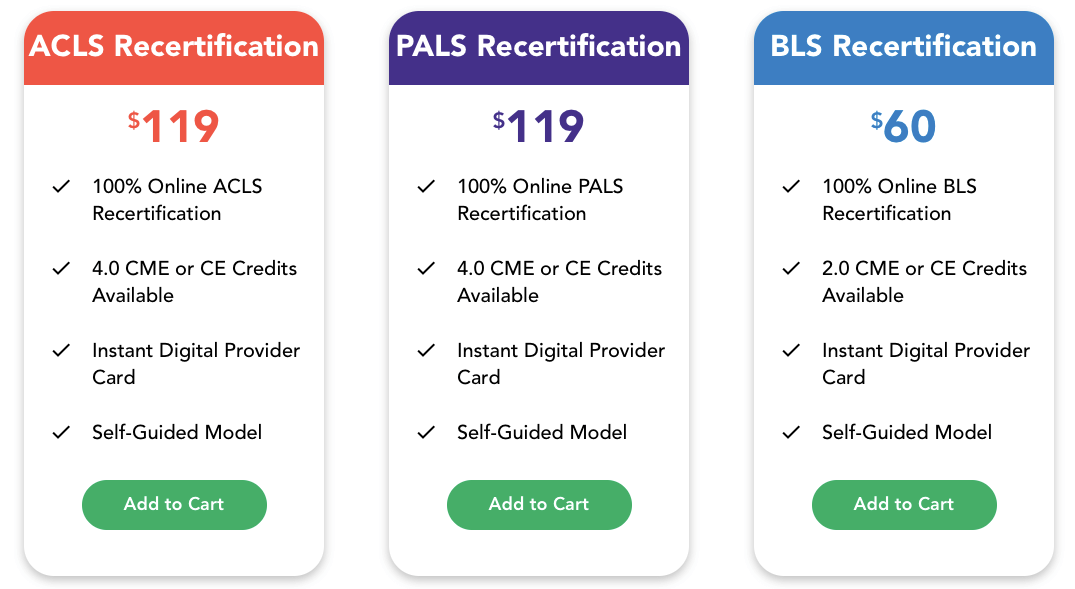 eMedCert also provides their loyal customers with a discount code that can be used for all additional purchases after signing up for their initial course.
Furthermore, we also offer group discounts when you purchase five or more courses. To learn more about our group rates, or to submit a group inquiry, please feel free to visit our Group Options page.
Accredited Programs With a Satisfaction Guarantee
Our online certification courses are accredited and backed by a 100% satisfaction guarantee with excellent customer reviews.
Accreditation and Professional Partnerships
eMedCert's Certification courses are based on the most up-to-date material from the American Heart Association (AHA) and are accredited through two professional partnerships:
Because our courses are backed by these highly respected organizations, you can feel confident in their quality and value.
Satisfaction Guarantee
We offer a full money-back guarantee on all of our courses. If you are unhappy with the program or have issues with your employer accepting your certification, simply contact our Customer Support Team.
Grow Your Healthcare Career With Convenient Online Certifications
Earning professional certifications is one of the best ways to maximize your healthcare skills and prepare for advanced career opportunities. Certifications like ACLS, PALS, and BLS are always in demand, and these programs can help you hone crucial life-staving skills.
eMedCert makes it easy to advance your career with a life-support certification like BLS. We offer our certification and recertification programs completely online, which gives you the freedom and flexibility to complete them on your schedule. There's no need to interrupt your workflow to attend in-person classes or exams. Study the material and take your exam online whenever it's convenient for you.
Our ACLS, BLS, and PALS Certification programs are accredited and affordable. We also offer recertification programs with special pricing for returning customers. With our bundle packages, you can save money on all three certifications. Are you ready to take the next step in your healthcare career? Get your ACLS, BLS, and/or PALS Certificate today!
Sign up for your ACLS, PALS, and BLS online courses TODAY!